BCL Macro
Macro in the most interesting of times
In 2011 Societe Generale shipped me to Paris for 'banker training'. During the month I sat in an austere office learning the ins and outs of structured notes and option greeks, it looked like the firm would collapse as the Euro crisis slammed into the financial system. One day our instructor suspended lessons to buy SG shares on margin after a particularly precipitous fall. We all cheered him on and half an hour later, he stopped out and cancelled classes for the day to commiserate in the bar. Now, in 2020, 9 years 3 countries and 2 banks later, I've found a bigger calamity to insert myself into.

In some way this economic crisis is like every other. Everyone's income is someone else's expenditure, and spending decisions are determined by willingness and ability to pay. Some phenomenon has an impact on either of these, and expenditure will change. In every crisis, the shock and the economy being shocked are different. The shock here is unprecedented in scale and scope. In the US, 22 million new unemployment claims were filed between the 14th of March and the 11th of April, equivalent to 13% of all workers. And the economy being shocked is not your grandfathers economy. Firms are carrying an unprecedented level of debt - and much of it is focused in particular sectors like energy production and retail that are especially vulnerable.

The combination of shock and vulnerability mean we're going to navigate together through an economic crisis of historic proportions. Fortunately, we've got navigation aids. Firstly, it's important to unclutter the picture. Here on this blog it's all about macroeconomics as it informs financial markets and investing, which means a narrower set of questions. It's certain that Covid19 will result in a large fall in GDP, but the extent of it really doesn't matter much. What matters for financial markets is how whatever is going on in the real economy impacts the returns to financial assets. Bankruptcies, prices in markets for real capital assets (plant, machinery) and the flow of credit will tell us more and faster.

In my work, I focus much of my attention on money aggregates and credit. These data are often sharply at odds with prevailing narratives about the economy - such as the idea that US monetary policy was loose just because the Fed funds rate was zero from 2010 - 2015. The below chart shows the rate of growth in the money supply minus the rate of growth in nominal GDP. 2010 - 15 is characterised by money growth a little in excess of nominal GDP, but far from the excesses of 2006/7 and 2001/2:
Similarly, we can see that the early 2019 slowdown that prompted the Fed to start cutting in the summer was as much about money as trade. For the whole of 2018, the money supply grew at a slower rate than nominal GDP. In the first few months of 2019 no one wanted to hear that the resolution of the trade war wouldn't lead automatically to hikes, as the monetary environment itself was tight.

Drilling down into the credit picture, it's possible to highlight where the likely pain points in the economy are. Balance sheets are the electrical grid of the economy, and persistent imbalances are as damaging for economies as they are for electrical circuits. The same comparison of income vs credit is as useful for sectors as it is for whole economies. The 2008 financial crash was baked in by a massive expansion of borrowing by households in the post 2002 era as a result of regulatory and monetary looseness. Mortgage debt doubled between 2002 - 2007.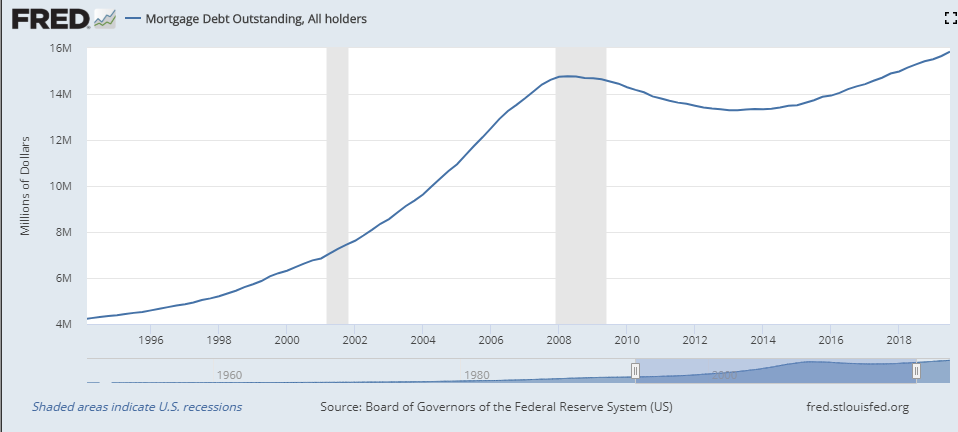 So far so obvious you might think, but analysing this stuff in real time is hard and unrewarding unless done comprehensively. The nature of financial contracts is that they change. Mortgages in the modern sense are a relatively recent invention. Mortgage bonds even more so. Money market funds are a creation of the 1970s, commercial paper markets came before, and then before that discount houses. Governments change contract law, financial regulation, and then the methods used to collect the data on the impacts of the changes they made. Keeping track of the whole story is necessary to see the vulnerabilities and strengths in economies clearly.

That's what this blog is for, to keep track of the story. We'll be starting with the USA, Australia and New Zealand and expanding to cover as many economies as time allows. Robust criticism from anyone willing to read is all I'll need to make this more than worthwhile. I promised actionable content here, but for this introductory note the only action I'd ask is that you follow me here and on twitter, and of course to have a restful and life affirming weekend.