Gold, safe as houses?
An analogy with houses shows the fundamental flaw of the "money printing" bull case for gold
TLDR
- Houses and flats are close substitutes, but the supply of flats is far more elastic
- Gold and dollars are close substitutes, but the supply of dollars is far more elastic
- We don't expect the price of flats in terms of houses to be a function of the ratio of houses to flats and shouldn't expect the same of gold and dollars
- Gold is impacted by sentiment and flow more than elastic financial assets
- This will drive the gold price, not "money printing"

To an economist as well as a regular human, houses and flats are very similar. They are both places to live, or as an economist might say, both assets provide a stream of housing services in perpetuity. One thing they don't have in common however is potential supply. The law of gravity means that within a certain area, you may have only a certain number of houses - whereas the number of flats is restricted only by the technology of the day. The tallest skyscrapers in the world are now approaching 1km, and over a hundred stories - meaning that over 50 times more two story accommodation can be built in the same area. Presumably as we deploy better materials and become more relaxed about giant dystopian structures blocking out the sun this number will go up.

Housing services is a strange concept, but not as strange as the services we gain from another good - money. The value of storing, accounting and transferring credit is a complex thing to value. Housing and money have this in common. What they also have in common by analogy is that some types are more available than others. Gold is the houses of the money world. Its supply is tightly constrained by physical reality. Dollars are the flats. Their supply is constrained only by the institutions and technology of the time. The analogy extends - houses tend to be less homogeneous, have higher cost of carry (from maintenance etc) and more costly to sell - as does gold. Flats tend to be produced and marketed by institutions, they are often supplied by governments to their populations. Two markets for goods with hard to define but crucial properties, split into one constricted supply, positional, elite section and one elastic supply, commodified section. How do we value one section vs another?

It's clear from our everyday experience that the ratio of houses/flats does not determine their relative price. Both provide the same essential quality of a roof over ones head. In conventional microeconomics terms - they are close substitutes. A sudden increase in the availability of one means that both drop in price - or in the jargon, they have positive cross-price elasticity.
Now, applying this logic to financial markets quickly leads us down a blind alley - because all financial assets are close substitutes. It's exactly the extent to which they're not that determines their relative price - and here perception is as important as reality. A stocks returns in money cannot be known up front. A bond's returns in money terms can be if its a risk free government bond, but not its real return because it's only paying you money and you don't need money, you need stuff. Golds returns of course are zero, it's only the price that moves. This post will not, I'm afraid, propose a valuation model for gold in terms of anything. We're here only for an observation, thrown into sharp relief by this chart:

Source: BBG . White = Gold Price, Green = S&P 500 Price, Orange = US Zero Maturity Money Supply, Purple = Barclays UST unhedged total return, Red = US Nominal GDP. All indexed to 100 as of 30y ago.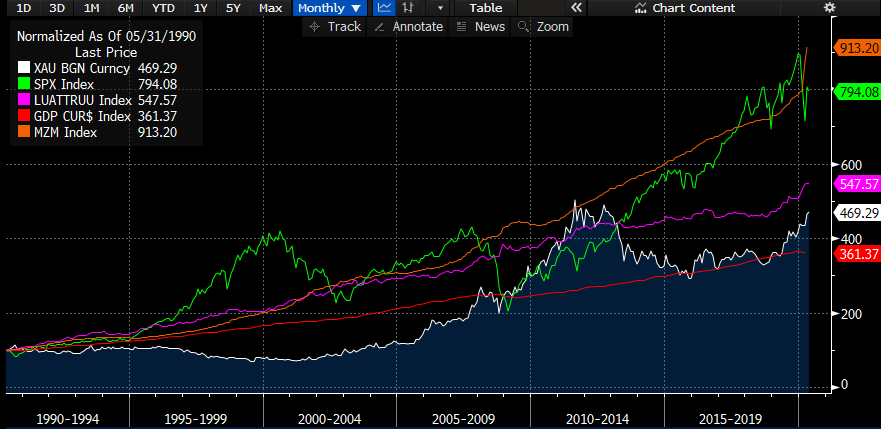 What's immediately clear is that Gold is not tracking the quantity of money higher. Stocks are doing much better at keeping pace with that number - even though stocks, like money, have no physical constraint on their supply. Total returns to treasuries have diverged as well. Gold has managed to keep pace not with money but with GDP.
In some ways, that makes a lot of sense. GDP is, arguably, the value of all the things that are in constricted supply added together. This is just me reverse engineering a story to fit the data - the reality is that we can see Gold failing to keep pace in price with the quantity of money, and diverging from GDP for long periods. If I can reverse engineer a story about why it makes sense for gold prices to fail to grow with the quantity of money or output then clearly so can everyone else. And you can do the opposite as people are doing today, not least the central banks who spent 2019 accumulating gold reserves.

Ultimately, asset prices are not mechanically linked. Gold is no exception. Just as the scarcity of houses relative to flats has no necessary bearing on the relative price of the two, the quantity of gold and quantity of money are not necessarily related to the price of gold in dollars. And unlike in housing, prices depend almost entirely on perception in the short run. The fact that the price of the biggest Gold ETF and the number of shares outstanding are so closely related tells that story with some clarity:

Source: Bloomberg, white=Shares outstanding of SPRD Gold Shares ETF, yellow = price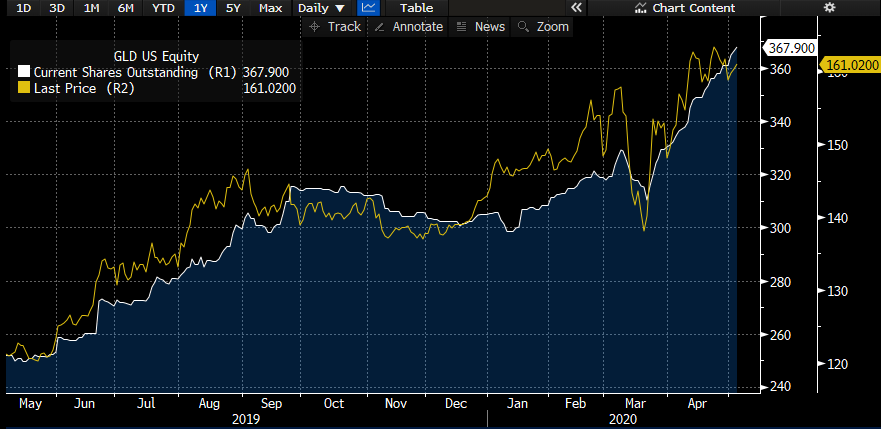 Callum Thomas at Top Down Charts tracks equity sentiment via twitter poll, and was kind enough to share this chart. The red line going up represents a higher level of bearish sentiment. It's rare to see sentiment and gold moving in opposite directions: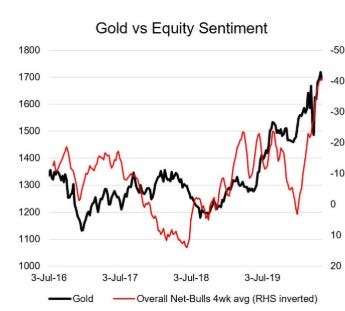 Contrast that to the latest fad in stock ETFs, where 'JETS' has gone from a niche $30mio smart beta play to a $550mio monster with over 40 fold more shares than at the start of march - with absolutely no impact on price:

Source: Bloomberg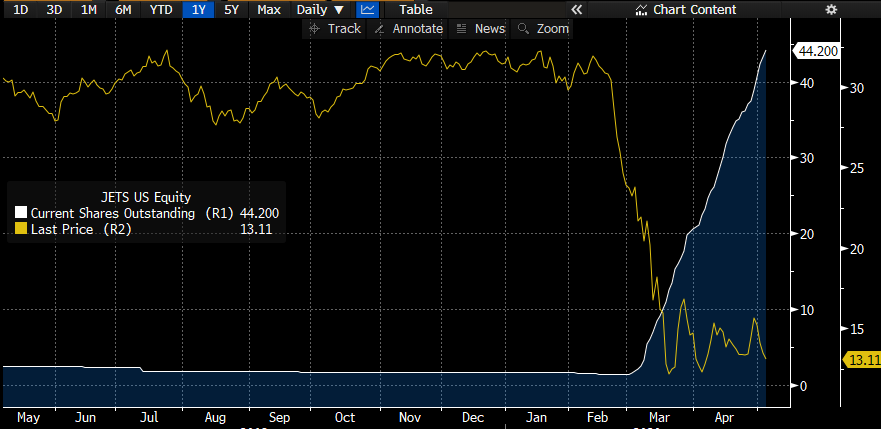 Now, I'm not saying that gold prices are based only on fad and fashion. Smarter and more informed folks than me do meaningful work analysing the stock and flow of gold, and I'm sure that can yield actionable insight. I have indeed bought some gold for my personal account in the last week, as the narrative around it coalesces into something which appears to have a momentum of its own and I'm a bit concerned I won't get another chance. What I strongly reject however is the assertion that money printing makes gold a wonderful investment. Increasing the quantity of one thing over another absolutely does not mean a lower price. Even if their favourite metal gets carried to new heights, Goldbugs and 'money printer go brrrr' types will still be wrong.

---
NB: This post is not investment advice and is not a trade recommendation. The views expressed here are my own and do not reflect those of my employer.