Koreas credit conundrum
The ineffectiveness of loose policy means we'll likely see more of it
TLDR:
South Korea grew its economy with a directed credit policy, like Japan

This is still ongoing, with big state run banks and agencies

Credit growth seems to have disconnected from GDP growth

Authorities will likely keep up credit expansion until they see results
---
The economy of South Korea is a 20th century miracle. From 1960 to 2000, nominal GDP grew at an average of 22% a year, the kind of exponential growth that would make covid 19 blush. Such things don't normally last and the 21st century has seen a tapering off of growth. Nominal GDP is, as always, lagged a quarter so the latest number on the below chart is Q1 of 2020, but Q2's print will be even lower, with real GDP having printed -3.3% and CPI showing modest deflation. So what could this mean for rates? The first thing I look at in any economy is the relationship between money supply growth and nominal GDP growth, to get a direct read on the tightness or looseness of monetary conditions. Here they are charted:

South korea M2 YoY (White) vs Nominal GDP YoY (Yellow)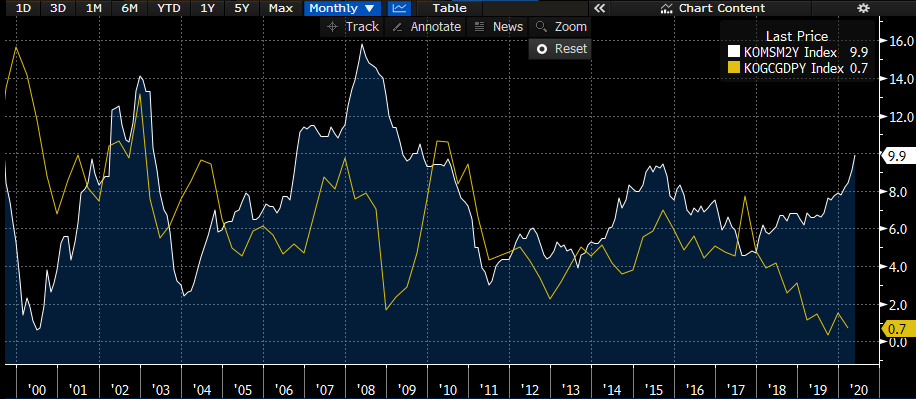 Korea interests me because for the last year, it's been flashing 'loose' on this metric. Counter intuively, the point of divergence in 2017 coincides with modest tightening of policy by the bank of Korea (BoK). They hiked the base rate once in November 2017 and again in november 2018. The november 2017 monetary policy report accompanying that first hike doesn't report any worries about inflation, instead they represent it as a move from an accomadative to a neutral stance. In general, if monetary conditions as measured by broad money vs nominal GDP are loose but the market ancitipates further loosening, that can be an opportunity to bet on tightening. This isn't a hard and fast rule though. If conditions are loose, it's important to understand why before taking action.
Looking at a history of Korean economic policy, the question of why monetary conditions are loose would seem to be best answered by reference to what the government wants. "Directed Credit" was one of the main policy instruments used to generate rapid growth in the 20th century. In common with Japan, Korean banks were effectively an arm of the government in the 60s and 70s. Commercial banks were nationalised, and loans that were a result of policy decisions made up around half of all credit through the 1980s, with the manufacturing sector receiving the lions share. The 90s onwards saw liberalisation of the financial system as non-banks increased their share of both deposits and total credit, but banks remained in large part policy vehicles. That changed over the past two decades, but in degree not kind. 2 of the six biggest banks by assets are state run. Since 2018 then, it's reasonable to say that if the credit environment is loose compared to the real economy, it's a policy choice. Further circumstantial evidence of this is that lending to firms, over which there is a much stronger history of policy control, has been relatively more expansionary. Here in yellow is the raio of business loans to capital spending, and in white the ratio of household debt to consumption: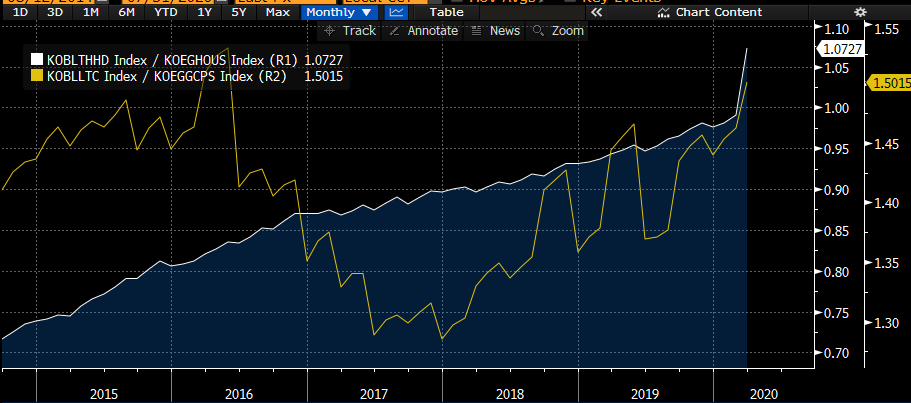 Since 2018, both have been expanding. Anyone who's bursting to tell me at this point that the BoK raised rates in late 2018 and therefore policy was 'tightened' is welcome to leave a comment that'll be ignored, around here we measure the stance of monetary policy by its results not its intentions. Credit to firms is the main policy tool historically, and it's been expanding.
The problem for Korean policymakers is that the lever that delivered economic success in the past appears to have become disconnected. This chart is a little busy for which apologies, it shows consumption as a share of GDP (yellow), investment as a share of GDP (white) and the current account balance (green). From 2017, the investment share of GDP falls even as credit to firms grows as per the previous chart: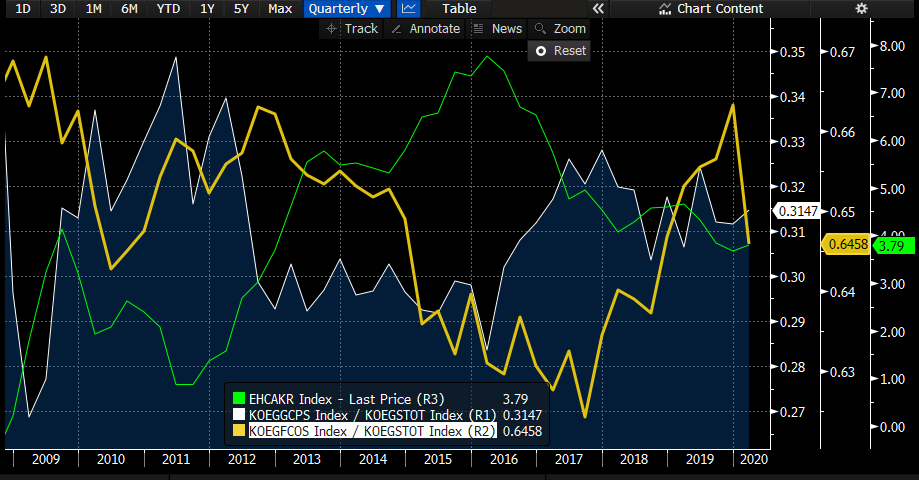 Consumption's share of GDP has grown steadily, whilst the current account contributes little. The progress of the current account in the 2011-16 period suggests that the accelerator pedal might have not been working then either, growth overall was solid in this period but the current account surplus was doing a lot of the leg work. To refresh, here's the chart of nominal GDP growth (yellow) again: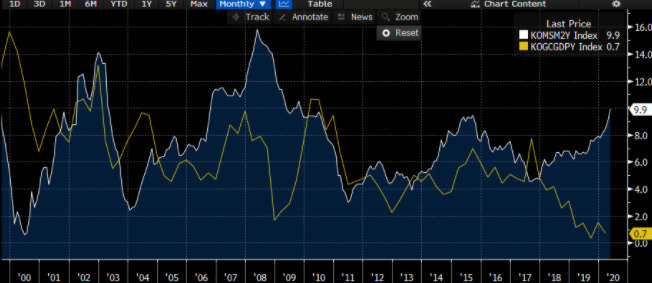 Normally if I see monetary expansion vs nominal GDP and the market prices tightening, I'd say there were no trading opportunity. The history of Korea though indicates that this could be the wrong conclusion. The implicit assumption there is that loose monetary conditions mean a need to tighten because there's a link between credit growth and economic growth. This often works because quantity theories of credit are unfashionable in central banks who prefer to say that policy is loose if rates are low and tight if they're high. That leads to surprises like in the late 2018 US, where the Fed raised rates despite the fact that credit growth was petering out, resulting in a downturn and a u turn in 2019.
In 2020 Korea however, we have no reason to think that expanding credit growth will have much of an impact on what the BoK cares about - growth and inflation. Having a deliberate credit policy already makes Korea different to more liberal regimes like the US, the question of whether rates will rise or fall is therefore less about whether the BoK gets surprised by the impact of credit tightening as the Fed were in 2019, but whether their policies are having the effects they want. In the midst of a pandemic, it's hard to imagine the pattern of the last few years of credit policy ineffectiveness will be reversed. I therefore expect the BoK to keep policy accomadative for the forseeable future. The shape of the interest rate swap curve makes for an interesting opportunity for anyone who agrees with me.
---
NB: This post is not investment advice and is not a trade recommendation. The views expressed here are my own and do not reflect those of my employer.