Macro is dead. Long live Macro.
For the second time in a decade developed market rates are close to zero. Macro investing wasn't irrelevant then and it won't be now.
TLDR:
- Yes, policy rates are all 0 now.
- The whole post bretton woods rulebook is subject to change.
- Actual interest rates are all over the place.
- There are trades to be done.
---
Returning to markets after 3 months of golf (hcp18, don't get too excited….), freediving and eventually lockdown, I'm confronted with something beyond the normal professional ennui that I've become accustomed to from my friends in the macro investing community. It's natural for any set of professionals to mourn the good old days when things were simpler/easier/better but the fact that interest rates are zero in many currencies gives the mourning a new tone. Here in all their glory are the overnight interest rates we face in the so called developed world. The UK and US are grudgingly included despite ones inability to provide PPE for frontline medical staff, and the other's president recommending injecting disinfectant:
Source: Bloomberg, white: USD, yellow: EUR, Blue, JPY, Green: GBP, Purple: CAD, Red: AUD, Orange: NZD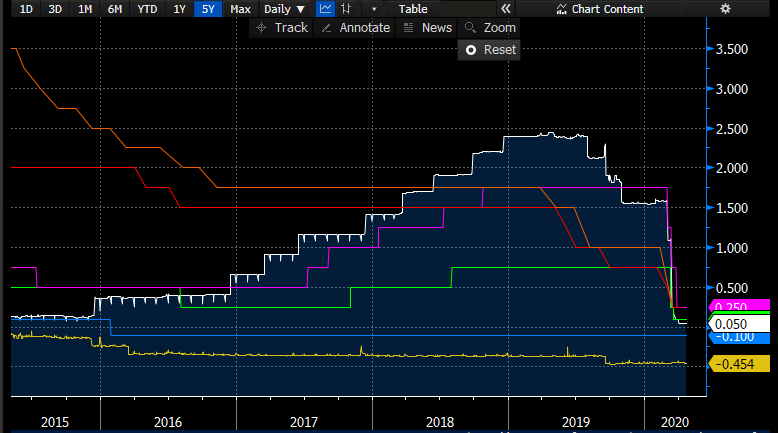 A sight to strike fear into the heart of any macro punter - how can we have an edge in a world where rates can only go up or sideways ?

We've got to step back and take stock. All of us, without exception, have been trading in an environment where the big picture rules haven't changed in 40 years. Since the 80s, we've had floating currencies, capital mobility, dollarised international financial markets and inflation targeting central banks in every single one of the countries on that chart. Yes it's been fun and profitable to essentially do relative value on those different flavours of dollar derived interest rates, but think of how big the opportunity set is about to get. Now, every single one of those big picture rules can change.
Floating currencies? The BoJ has been flirting with outright control of the JPY for decades. It's widely, and I believe correctly assumed that the RBNZ uses the AUDNZD cross rate as its key macro indicator - not an unwise thing to do given the difficulty of assessing potential output in a small open economy.

Capital Mobility? Here the writing was, if not in the wall, drafted and ready to be stencilled on.

BiS, total international claims of all world banks: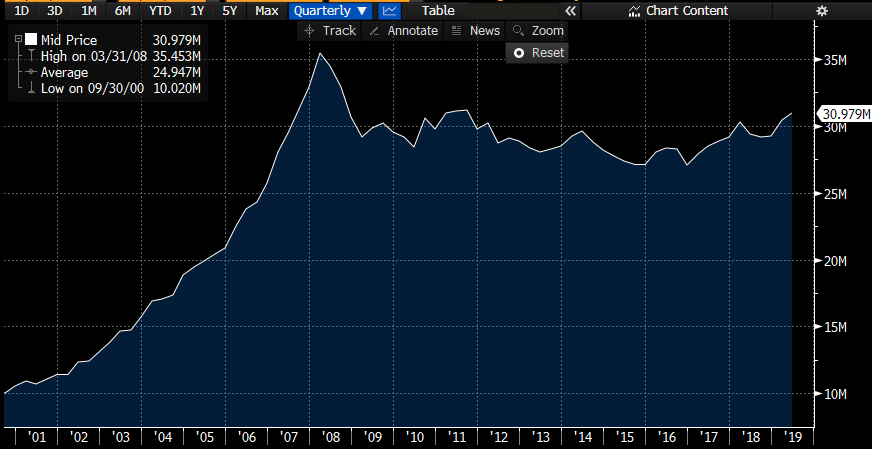 The great financial globalisation that led to the global minsky moment of 2007/8 halted afterwards and went into reverse. How likely is it that we continue into the sunlit uplands of financial entanglement in the current environment?

Dollarised financial markets? This one I have to admit is likely to endure but nothing is certain. Jerome Powell appears to take his role as facilitator of the worlds reserve currency seriously, and the Feds interventions have had a decidedly internationalist bent - allowing more central banks to access $ swap lines, reducing their cost and increasing their maturity. That said, this is only done because otherwise the crisis would put unbearable strain on those with obligations in $ but no access to $ funding- and the experience might be painful enough that they avoid it in future.

Inflation targeting? As my friends in the Coex London team neatly put it, 'how do you put price on something that doesn't exist?'. Central banks have never been un-contingent inflation targetters, only acting to address inflation when its a result of domestic excess demand, rather than shocks from outside their economies. Now, with the prospect of deflation in labour and product markets and no conventional tools to address it, we'll likely see the same indifference. Inflation has never been under central bank control, and in a sudden stop to the global economy any pretense of control will likely be abandoned.
In any case, the fact that policy rates are on the floor everywhere doesn't mean the game of getting ahead of central banks is over - never mind the rest of macro. The overnight policy rate is only one way central banks influence the economy - their main superpower is the ability to switch any financial instrument for its market value in base money. Using that power to set a policy rate has been the main model used for 4 decades, but that method has reached its limit and its natural conclusion. The quantity of reserves and the policy rate are both instruments to affect the flow of credit in the economy - and central banks have many other ways to do that. Asset purchases, repo-operations, tiering of interest rates and fiddling with regulatory constraints are some, and doubtless we'll get to see some more. If we look at the 3m interbank lending rates in our developed countries, the aspiring macro punter has a lot more to get their teeth into:

Source: Bloomberg, white: USD, yellow: EUR, Blue, JPY, Green: GBP, Purple: CAD, Red: AUD, Orange: NZD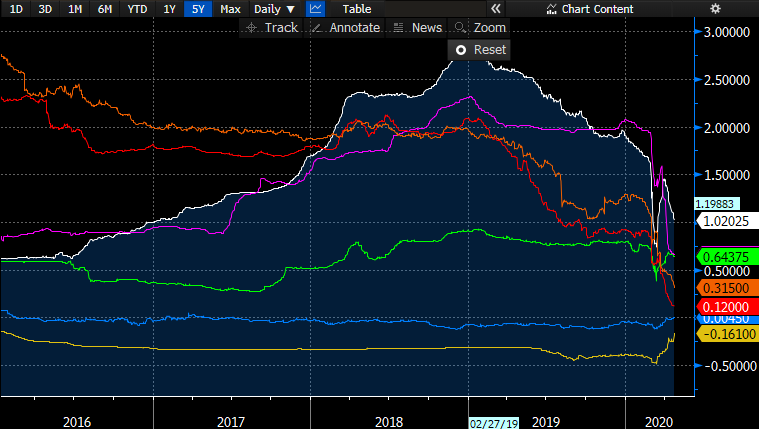 A lot more variation statically, and trending every which way. Euribor is creeping up as the sovereign/bank credit complex blows out. Canadian bankers acceptances are cratering as the BoC's QE program kicks in and expands to provincial bonds and credit. US Libor fell dramatically with the initial rate cuts, only to blow out again in the march selloff/deleveraging. Australian BBSW has fallen BELOW the overnight cash rate. There's money to be made in these moves. Macro isn't dead. It's not even resting.


NB: This post is not investment advice and is not a trade recommendation. The views expressed here are my own and do not reflect those of my employer.