Market fundamentalism
Dangerous for your mind and wallet
Financial markets have delivered us a series of exceptional trading days. A melt up to 10k on the Nasdaq, a swingeing correction, and now a relief rally that seems to relieve no one. Emotions have been running high, but there's one impulse in particular I want to encourage us all to look out for and deal with before it costs us money and sanity. It's also one I want to name for future reference, so we can call it out when we see it. Market Fundamentalism is what we need to watch out for.

Callum Thomas at TopdownCharts surveys financial folks for their bond and equity outlook, and whether it's driven by "technicals" or "fundamentals". In the first days of June, his surveys revealed that most people had a bearish outlook on stocks driven by fundamentals. As the rally progressed last week, there was a capitulation. Respondents changed their view - but not their view on the fundamentals. They moved from "fundamentally bearish" to "technically bullish" as the Nasdaq made new all time highs. This mirrors what I hear from my small and biased sample of contacts in the financial industry, where almost everyone I know is quite sure that this rally in stocks does not reflect "Fundamentals".

The first problem with that view is that fundamentals are not as fundamental as they appear. 'The economy' is smaller than we think in terms of the reflecting what is happening to most people and most things. But if 'the economy' doesn't reflect economic reality, the stockmarket has the same problem compounded. If stocks have fundamental value it's because they represent a claim on future $ or output. I prefer to think in terms of output but most theories are about the $. These $ flows represent a small slice of "the economy", S&P 500 total earnings on a 12m trailing basis for example are around 5.75% of nominal GDP. That 5.75% is not at all representative of 'The Economy', which is itself not representative of most things that happen to most people.

Legitimately, one could say that it doesn't matter if stocks don't reflect most people's reality, what matters is that there is some fundamental link between their price and economic variables. And indeed, that seems to be the case - but somehow it isn't fundamental enough for most people. This charmingly simple chart shows the S&P 500 vs initial jobless claims (inverted, green, source Bloomberg):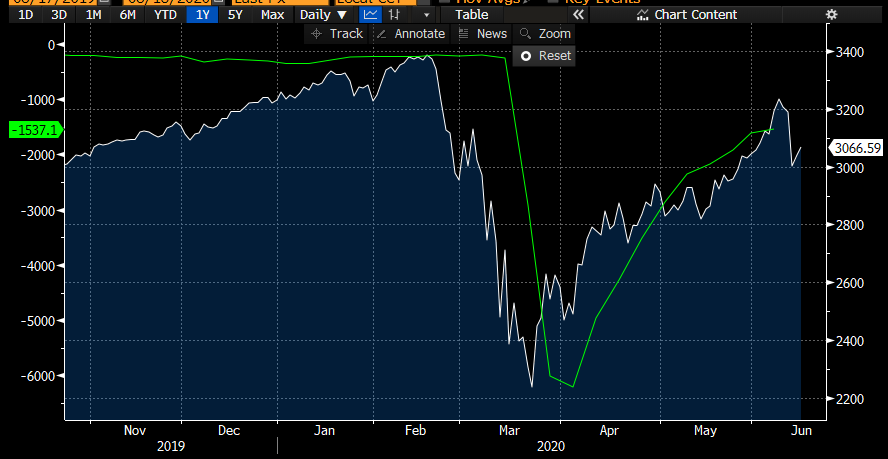 Despite all the ways in which the cashflows or output claims of stocks are only tangentially affected by employment, stocks and claims bottom almost simultaneously and move off together. A double V shape recovery! Now, you can counter that this makes no sense because even those lower levels of jobless claims represent a deteriorating economy, but that pre-supposes a kind of relationship between economic data and stocks and there is nothing fundamental about that particular relationship. No theory I'm aware of says that stock prices ought to be a linear function of the current level of employment.

There are at least two important fallacies that I think are operating in the case of Market Fundamentalism. Firstly, that good begets good. Chris Dillow has written extensively on the how this error applies to thinking on markets and economics, in a nutshell we tend to assume that things we've labelled as good will coincide. If we believe that GDP growth is good and so is stock prices rising, we'll assert the two are linked "fundamentally" without any explicit theory of why. Given the lack of explicit theories about asset prices from most financial market practitioners, this kind of thinking is rampant. But nested inside the good begets good fallacy is another more fundamental one - the is/ought gap. Our minds are primed for moral and normative judgments, but the world outside our minds is not good or bad, it just is what it is. It never ceases to amaze me the extent to which market participants who should know better insist on discussing whether a particular event is "bad or good" , or "bullish or bearish" if they want to disguise what they're doing with some jargon.

This nested fallacy, that good begets good and that there is a distinction between good and bad in matter of economics and finance, is particularly dangerous in times of rapid change or crisis. It can be got away with when there are broadly accepted sets of relationships between economic reality and our normative ideas, because the self fulfilling nature of prices mean that reality as represented by moves in the market can start to line up with widely accepted views of how the world works. When things really change however, these relationships come unstuck fast. The almost universal belief that GDP growth is good has, in this moment, come into sharp conflict with the reality that increased consumption at a time when every face to face interaction risks permanent lung scarring is not necessarily a good thing. Governments around the world have deliberately reduced GDP, and are not trying to increase it so much as keep productive capacity from being permanently destroyed. If you are taking the mental shortcut that stock prices up is good, and GDP growth is good, so if one is getting worse the other should to you're missing all of the forces on which the virus and the government responses are acting. Market fundamentalism mirrors fundamentalism in other fields, asserting that a subjective interpretation as fact and insisting reality should conform to it.
In markets, we have to hold our truth lightly because we are not in the business of being right, we are in the business of making money. I offer myself up as an example. I still believe that the most likely macroeconomic outcome is a wave of bankruptcies in the US that results in a serious earnings recession, and causes a substantial decline in stock prices before the end of the year. That belief however doesn't mean I won't buy stocks. I recognise that many other outcomes are possible, including ones I can't conceive. I can look dispassionately at surveys of market participants bearishness and conclude that it's tough for stocks to sell off when everyone is waiting to buy. I can look at the Fed's money aggregates data and see that current account balances in the US have increased 40% and recognise the potential for those balances to buy stocks, and see that happening in real time. But more than anything else, I can respect the price. There is nothing fake about the all time highs in Nasdaq when the volume of shares being transacted has risen from around 2bio/day to 4bio/day.
Moreover, my observation of market actors is that the kind of thinking that asserts that prices are "divorced from fundamentals" is an intellectual dead end. Divorce need not be a bad thing. Relationships end, and that includes economic ones. Relying on inappropriate ones is as likely to result in mental anguish in markets as it is in marriage. The world changes, and as Mr Keynes so elegantly and possibly apocryphally reminded us, we must change too. We cannot if we channel Mr Skinner and assert that the market must be wrong. The market is not wrong or right, it just is what it is.