Mnuchins missing millions
The US treasury has accumulated loadsamoney expecting rational political leadership. Good luck with that.
TLDR:
The US treasury has been hoarding reserves

That looks like reasonable precaution given recent history

Mnuchin's expected fiscal boost may not arrive

If it doesn't, the price of short term debt vs cash can rise
---
Financial market participants generally have a kind of personal 'relationship' with policy makers and central bankers - and this is inevitable given the reflexive nature of what we do. Markets respond to policy makers, who respond to markets. Getting into the heads of Central bankers has made fruitful careers for many. Others take it a little far. In this post, I'll try to strike a happy medium in explaining why mr Mnuchin and the US treasury have accumulated a pile of reserves, and what that might mean. Here, the treasury operating cash balance in yellow (from Bloomberg):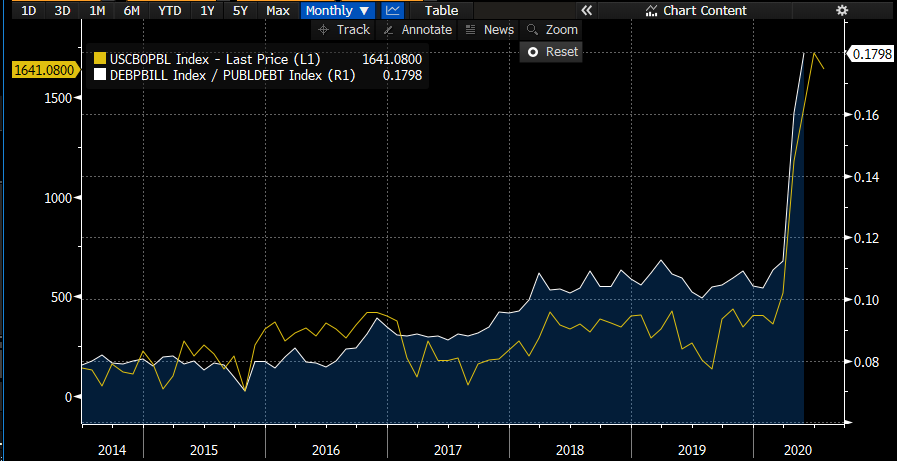 Since the start of the crisis response by the US government, the treasury has been taking with one had what the fed is giving with the other. As the Fed buys bonds with newly created reserves via QE and engages in an alphabet soup of other programs supplying liquidity, the total amount of reserves available increased dramatically. A good amount of them however have found their way to the treasury, which has increased bill issuance dramatically - both outrright and as a proportion of total debt (the white line on the chart above) from 10% to almost 20%.

The strange thing about using bill issuance to increase cash holdings during a recession is that the Treasury, the worlds most creditworthy borrower, is acting like a corporate. When Pepsi released their results yesterday just beating their EPS estiamtes, I was amused to discover that their bond issuance in the 6 months to the earnings date was about 3 times their total income. A cynic might argue that it would be pretty easy to Marty Byrde some of that cash into the earnings pile while analysts were expecting doom and gloom, but the point is that for a company like Pepsi issuing a tonne of bonds while the Fed's in the market buying makes sense. They need cash, they're unsure about their revenue streams. Indeed, the whole point of the Fed buying is to absorb the private sector's sales of assets, and provide it the cash it wants without allowing a chain reaction of fire sales due to the suspension of much of the economy. That logic doesn't seem to apply to the US treasury. We may choose coke over pepsi but we may not choose whether or not to be subject to taxation. In any case, the Fed is mandated to ensure the Treasury is able to fulfil whatever spending comitments congress enacts. So why pile up cash?

It turns out that in some ways, the treasury is a bit more like Pepsi than it may appear. The Treasury is empowered to issue debt to meet the financial commitments set by Congress, but Congress can also set limits. Whilst the debt cieling that so excited markets over the Obama administration is somehow mysteriously not so much of an issue under a republican government, its existence proves that there are political limits to debt issuance. But even if there were not, there are clear limits imposed by the market. Now, when I say "the market" I likely mean something different to most commentators, because I view markets as complex interractions between private interests, institutions and law - so I'm not picking a fight with the MMT crowd here and saying that the government can run out of willing buyers for its debt. It's just that buyers may be willing, but not able. We're not short of recent examples. Here, the spread between 2y OIS swap rates and 2y treasuries (a lower spread implies cheaper treasuries, from Bloomberg):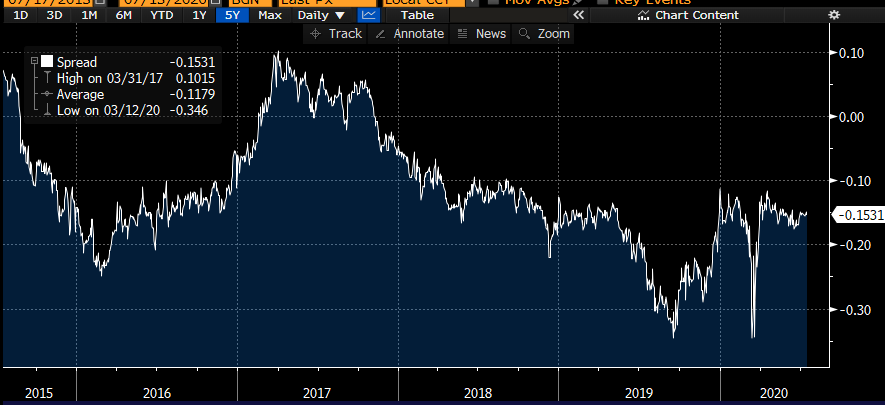 The mechanism that normally keeps risk free rates (OIS) and bond yields within spitting distance of each other is the repo market, where bonds can be temporarily swapped for their value in cash. In the autumn of 2019, the implementation of new rules measuinrg banks riskiness meant banks were unable to take bonds and give cash even if they'd wanted to because of the need to have smaller gross balance sheets over quarter end. That exacerbated an already stretched market as the US treasury ran down a cash balance it had built up as a precaution against hitting its debt cieling, and bonds crashed relative to OIS - with repo rates spiking as high as 5% annualised. The point here is that the treasury knows well that whilst in theory it can always get its debt away, in practice it may run into political, regulatory or other unpredictable hurdles - and sometimes all 3 at once. Given that a liquidity crisis for the treasury means the government unable to function, the incentive to avoid one is sharp.

Which brings us back to Mnuchin's millions - specifically the $1.6trio in reserves sitting with the treasury. Why has he done it? I've spent the last week canvassing market participants for a technical reason and have found none, so we're back to psychology. Mnuchin knows the history of treasury liquidity panics far better than I. He's seen September 2019, and March 2020 play out. He appears somewhat rational and still serves the Trump administration, so I can only assume that he believes that it won't plunge the US economy over a fiscal cliff in the coming months. His public remarks on fiscal policy imply he expects a generous level of support for the producer side of the economy, even if he's apparently ideologically opposed to handing out $ to actual people. Not only that, he knew that he'd have to support already agreed spending without much tax revenue until today. A $1.6trio abundance of caution means the Treasury is in a position to support already agreed spending with less tax coming in, and spending agreed over the summer without causing a panic in funding markets. So far so sensible.

The question then is what happens when the Treasury gets rid of its cash pile over the months to come. It appears they've already started, with the cash balance having failed to make a new high for a fortnight - the longest in a while. If congress gets its act together and passes a new relief package, those reserves can make their way back into the mix without too much trouble - the Treasury will continue with the same pace of bill and bond issuance whilst spending down their reserves. If however the administration leans into its denialist tendencies and fails to pass a new spending bill, the supply dynmics at the short end will change drastically. Reserves will be coming back to the market at the same time as the bill stock dwindles. The price of bills relative to money should rise. What's more, in anything resembling a fiscal cliff scenario, the real economy won't be doing so well. Fiscal stimulus in recessions needs to be powerful to overcome deflationary forces , and a failure to deliver will let this forces loose - exacerbating the already expected wave of defaults and firesales in risk assets. If you're at all sympathetic to the calls from bank strategists this week for Libor to rise in the latter half of the year, it's worth considering that the scenario where it rises fastest is also the one where the relative price of short term government debt rises. The kind of debt selloff we had in march has QE'd / regulated away. It may be relevant then that 1y swap spreads sit at low levels, on multi year support (from Bloomberg):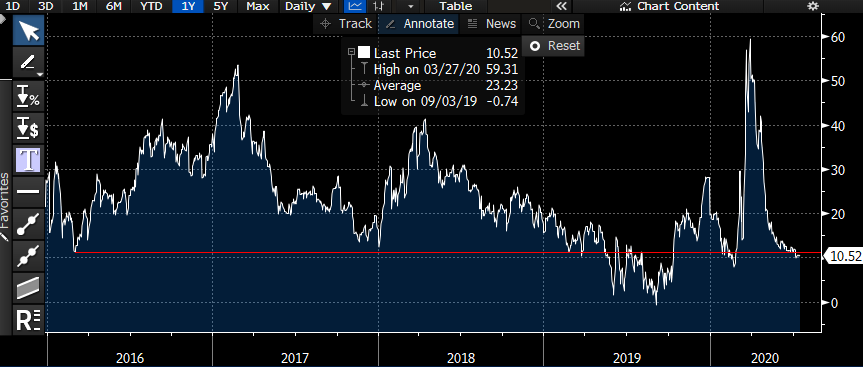 ---
NB: This post is not investment advice and is not a trade recommendation. The views expressed here are my own and do not reflect those of my employer.