Springing the liquidity trap
The Fed's H6 release shows the limits of fiscal and monetary policy
TLDR:
- US Rates Futures are pricing negative rates in 2021
- Data from the H6 release justifies this
- $1trio of fully monetised government spending has increased demand deposits by only $300bio

Yesterday (Thursday May 7th) saw a rally in fixed income drive implied Fed funds rates below zero in 2021 - pricing negative rates in the US for the first time. Bank strategists this morning are blaming the move, which took the June21 fed funds future from +0.02% to -0.035% in yield, on a short squeeze as speculators had sold US bonds anticipating increased supply and were forced to buy them back. Positioning or no positioning, details from the Fed's H6 money aggregates release indicate that the market is right to price the possibility of negative rates.

Yesterday's H6 release which covers to the 27th of April shows an increase in M2 of 900bio. On the face of it this is good. The Fed's purchases increase reserves, and reserves are not counted in M1 or M2, only private sector money balances are. That would appear to imply that the Fed's policy is passing through into the real economy. The devil though is in the details.

The problem is where money balances are ending up, and where they're coming from. Less than half of the 900bio increase in M2 is accounted for by demand deposits, ie, money that could be spent on goods and services. Deposits at Thrifts are up 300bio, whilst at banks the increase is hard to determine because of the seasonality of deposits, which dip in the middle of the month (source Bloomberg:)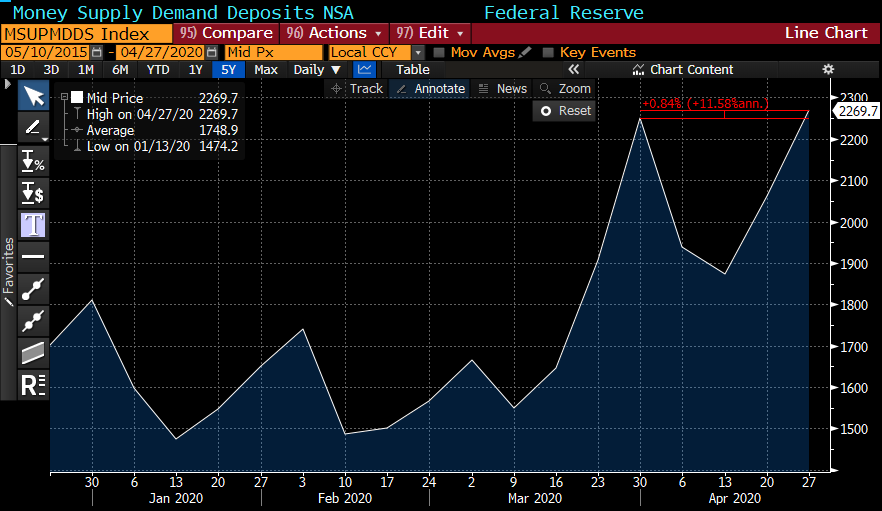 Month end to month end, they're only 1% higher, without seasonal adjustments. Suffice to say that demand deposits have not kept pace with the growth in reserves. The remainder of the M2 increase is made up with institutional money funds (+450bio) and savings deposits (+250bio). Roughly double the increase in demand deposits.

The source of these new liabilities is not bank lending, which would reflect banks acting to increase the money supply by extending credit, but government spending. Normal government deficit spending creates new deposits in the private sector (liabilities for banks), matched by government bonds (assets for banks). With the Fed taking the bonds back and replacing them with reserves, it's just new deposits matched by new reserves. Over April, the government borrowed 1.5trio. Of that, 500bio went to the treasury general account and wasn't spent. The Fed monetised a total of 900bio. So, 1trio of almost fully monetised government spending for 900bio of growth in the money supply. The private sector is not, even with extraordinary support, managing to supplement that with credit growth. Monday's H8 release from the Fed will give us the story of what banks have been doing in April.

In the end, 1trio of net government spending, almost fully monetised, gets us 300bio of new transaction deposits and a whole lot of savings. In some ways this is hardly surprising, given that so many opportunities to spend money remain unavailable, but that only adds to the severity of the liquidity trap we find ourselves in. Without the capacity to directly intervene in the economy on a mass scale by purchasing output, the US government needs households and firms to do it for them, and the data strongly suggests that they cannot and will not. With the quantity carrot failing, the state may soon be forced to turn to the price stick - negative rates. They've said they don't want to , but needs must when the devil drives.
---
NB: This post is not investment advice and is not a trade recommendation. The views expressed here are my own and do not reflect those of my employer.