The HKMA's next move
Hong Kong's not-a-central-bank faces its classic dilemma
Hong Kong has high rates, a strong currency and liquidity issues

Policy tightness to prevent outflows in 2018/19 explains this

Normally this would allow intervention to ease conditions

This isn't normal times. The currency has strengthened without inflows

The HKMA is, properly, insuring against outflows

I thought HK rates were a fade and now I'm less confident

A wise colleague once remarked that "Sell side people always recommend fading, they look for stuff that jumps on charts and just go the other way". Since then I've been mindful of that form of motivated reasoning, but it sometimes feels irresistible. Take the current spike in Hong Kong interest rates that have coincided with the latest bout of protests. Interest rate swaps in developed markets start with predictions of policy rates and build from there- but Hong Kong has no policy rate to speak of. The operation of its currency board system means interest rates follow the US in part, but not in whole. Here's 30y of their (3m HIBOR vs 3m Libor, sourced from Bloomberg) movement together: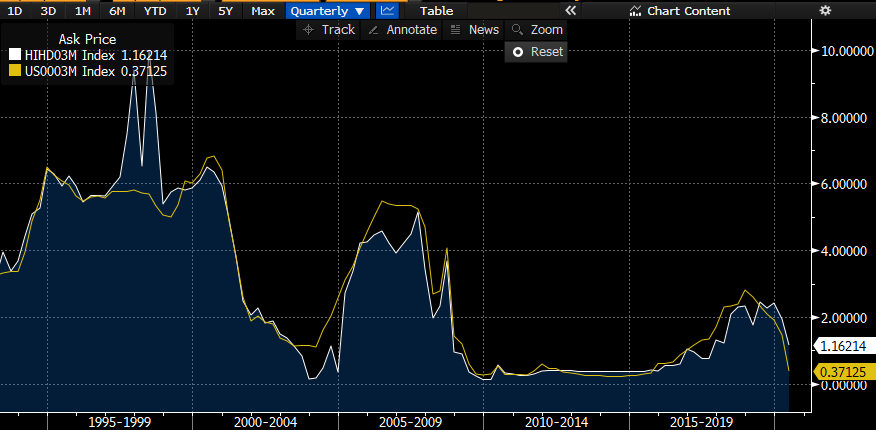 That apparent closeness however breaks down at the kind of trading horizon that's relevant to a speculative investor - since May of 2019 the spread between the two has trended higher: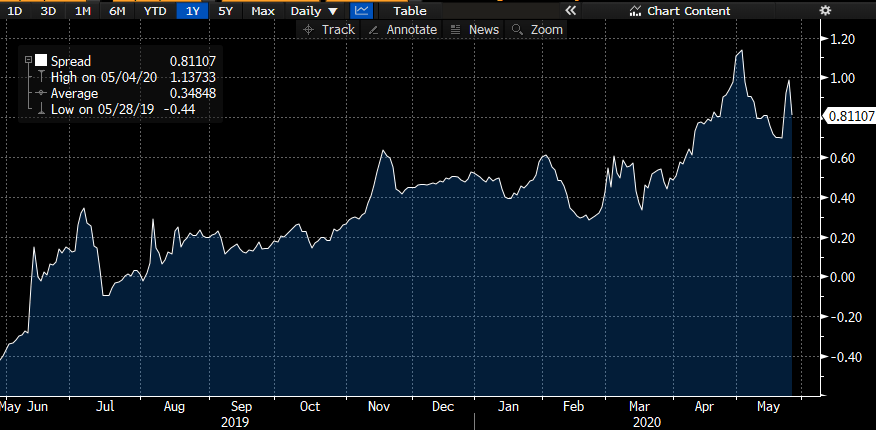 And of course even the non speculative investor might have been perturbed by the 10% spread that opened up in the Asian Financial crisis!

The current moment is definitely an interesting one. In order to maintain the Hong Kong Dollar's fixed exchange rate to the USD the Hong Kong Monetary Authority undertake to buy USD vs HKD at 7.75 and sell it at 7.85 in unlimited quantity. Since the asian financial crisis - they have built up a substantial war chest of around USD 440bio - 120% of GDP. Having a lot of USD to sell lends credibility to the commitment to keep USDHKD under 7.85. On the HKD side of the equation, interventions either expand or contract reserves - over which the HKMA has tight control. There are currently only HKD 95bio of reserves, compared to HKD 25tr of total bank assets - rather stingy compared to the US with its USD 20trio of bank assets and 7tr of reserves (though of course some 3tr of those are new!). Taking reserves out of circulation would normally be expected to drive up interest rates, which would be expected to attract increased HKD deposits - bringing market forces into play on the side of the intervention. HK's status as an international financial hub means, with some regulatory encouragement, that banks offer multi currency accounts - allowing customers to switch their balances seamlessly to chase higher rates. Speculators looking to bet against the peg therefore face an uphill battle. They need to borrow HKD deposits in order to sell them, which becomes increasingly expensive as the reserve base shrinks. The peg held in the Asian financial crisis when many others did not.

It's not that the HKMA are completely hands off in determining interest rates however. If they judge that there's too much liquidity in the system, they will take reserves out by selling bills. This also affects the aggregate balance. If HKD rates are high relative to USD and the HKD is on the strong side of the band - the HKMA has work to do to absorb the deposits coming in to take advantage of the higher rates. In such circumstances, it would likely elect to buy back bills, lowering rates and alleviating the pressure on the band. The private sector often has other ideas however! Hong Kong's banks are enormous compared to its economy, with deposits around 4 times nominal GDP (compared say to the USA where deposits are about 2/3rds of GDP) . Hong Kong was historically China's capital safety valve, helping Chinese companies access USD funding without the danger that these flows could undermine their exchange rate management, as well as savings bank to much of Asia. Money flows in and out are therefore crucially important - with inflows providing liquidity and outflows removing it.

Charting the USDHKD rate (yellow), aggregate balance(green), exchange fund bills (pink) and rates differential (white, horizontal line at 0) we can see how this has played out. Sourced from Bloomberg as usual: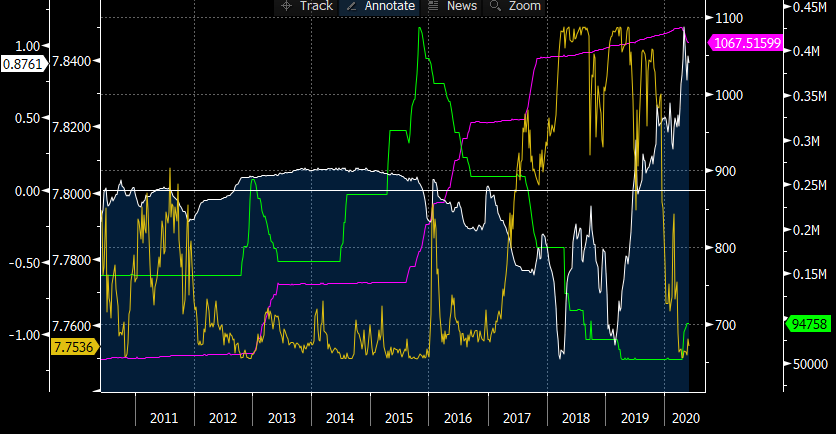 In the 2011/12 period, HKD was towards the strong side of the band. At the same time, HKD rates were around or slightly below the US - so the rates differential was working the way the HKMA wanted it to, encouraging HKD to weaken. They therefore did nothing. In 2012, USDHKD touched the strong side (7.75) and the HKMA had to make good on their commitment, buying 100bio HKD in two months. Following that, with pressure alleviating, they issued bills in roughly the same amount, drawing the aggregate balance back down. 2014 and 2015 saw further action on the strong side, with HKMA buying without bill issuance. In late 2015, the HKMA started buying with bill issuance - arguably a wise decision as USDHKD spiked later in the year, but only to the middle of the band. From 2016 onwards however things get a lot hairier. The rates differential with the US starts widening considerably, with HK rates far lower. The world became chronically short of dollars, with rising Fed funds rates and periodic spikes in $ FraOIS. The nadir of the spread at -117bps coincided with the 1st FraOIS at 55bps. USDHKD spent 2018 bouncing off the top of the band - but despite the aggregate balance being drawn down to a very skimpy HKD 50bio, Hibor stayed stubbornly low compared to Libor. The HKMA was simply along for the ride with the tightening Fed and didn't have the means to get ahead of it - a situation that persisted until the Fed reversed course in early 2019.

In 2019, the current series of protests also began. Money growth was broadly steady until march 2019, but since then deposits in HKD have contracted - whilst deposits of USD have steadily grown. Whilst arguments about HK's future rage, depositors are already putting their money where their mouth is. From march 2019, Hibor started trending higher against Libor as the loan/deposit ratio trended higher - forcing banks into increasingly expensive wholesale markets. Then finally, in late 2019, after a year of the HKMA steadily issuing exchange fund bills Hibor went sufficiently above Libor that the HKD carry trade became appealing enough to push HKD to the strong side of the band. Finally we've arrived at the Covid19 crisis!

Covid 19 met a strong Hong Kong Dollar and a tight money market, with the HKMA having spent a couple of years selling bills and taking the aggregate balance as low as practical. That was serving a declining financial hub well - but Hong Kong banks assets grew by HKD 642bio in March - about what they grew in 2019. It turns out Asia needs its international bank. That's the backdrop for the sharp Hibor moves we've seen - but what's new this week is that currency forwards and the cross currency basis are moving sharply higher. The 1y USDHKD forward is now at 7.8225, only 25pips away from the weak side of the band. That brings us up to date. So what are the choices from here? The HKMA faces a tight money market, but also the danger of outflows as political concerns heat up. Tightening the money market further to prevent outflows is one option . That would bring the carry trade to bear to counter deposit flight.

The problem there is that if they manage to keep deposits constant whilst forcing banks to eat more exchange fund bills, they'll exacerbate the already tight funding market situation by further increasing the funding gap. More bills to buy, same deposits to buy them with. The loan deposit ratio, at 90%, is at decade highs. Of the 642bio increase in bank assets in march -only 300bio was funded. At a certain point, deliberately making it hard for financial institutions to operate undermines HK's functioning as a financial centre. And in any case, it's doubtful that Hong Kong deposits can be enticed back by higher money market rates. The white line here is the ratio of deposits in HKD to deposits in USD - with the yellow being 3m Hibor vs Libor: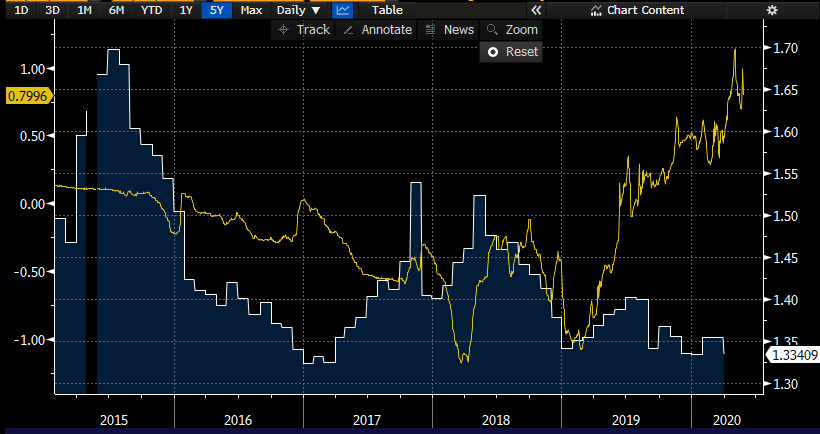 If it's possible to entice deposits back into HKD this way, where are they? HSBC, having refused to close my account there as they "can't verify my signature" (thanks guys) are offering me 90bps difference between a 3m HKD and USD currency deposit. Very generous of them, though my HKD 167 balance won't help them much whatever I do with it. The point though is that 100bps or 200bps is not going to induce savers to switch back if they're concerned about stability.

It seems as if the HKMA are thinking more along these lines. They've increased the aggregate balance by intervening at the strong side of the band, and reduced the exchange fund bill supply by a slightly smaller amount. For the last couple of weeks they've been absent, and at the same time rates have spiked. Whilst it makes some sense to stop if the fear is of politically motivated outflows, it doesn't make sense to leave liquidity tight if they don't materialise.

As is often the case, the HKMA's dilemma is that the action that would make most sense for its domestic economy could undermine the long term basis of that economy via imperiling the currency peg. In this case, it seems to me that the benefits of trying to insure against outflows via punishing the domestic banking system are doubtful at best. They have the means to reduce the rates differential, and the policy space to do it with a trillion HKD of exchange fund bills to buy and their currency on the strong side of the band. I expect them to do it, although writing this post has sown a lot of doubts. Hong Kong has enough reserve assets to provide dollars to half of its HKD deposit holders. In almost every state of the world I can think of that will be enough. My experience in markets has shown me that many more things can happen than I can think of.