The most likely US election outcome?
And why it's not considered so
The most likely outcome in my view is Biden + Republican Senate

National polling + swing state polling supports Biden

Senate race polling + voter suppression supports Republicans

The market is priced for either a blue wave or Trump surprise

Either way the fiscal taps stay on, but not in my scenario

I'm therefore looking at risk off trades
---
Recent events in the US feel unprecedented. A deadly pandemic, police riots, mass protests and militias in the streets give the current moment an apocalyptic feel. Unfortunately, much of this isn't unprecedented at all. A deadly pandemic disproportionately affecting a minority group certainly isn't. Much of US history can be framed as the consequences of struggles for racial justice and their reactionary backlash. That's why despite the temptation to get caught up with events, I'm looking at this election like any other. Anything is possible, but we can make reasonable judgments about what's probable. At this point, that looks like President Joe Biden presiding over a divided congress - a narrow Republican majority and a Democrat house of representatives.

Donald Trumps victory in 2016 was the kind of surprise that scars pundits and forecasters - but is simply inevitable when predicting the outcome of a complex process. Sometimes the coin comes up heads 10 times in a row. Over a long enough timescale, it ALWAYS does. Professional forecasters are assigning very high probabilities to a Biden victory this time around, with 88% from 538, but pundits and betting markets are much less sure. Predictit has priced Donald Trump between a 40 and 48 % chance for the past months (Chart from Bloomberg):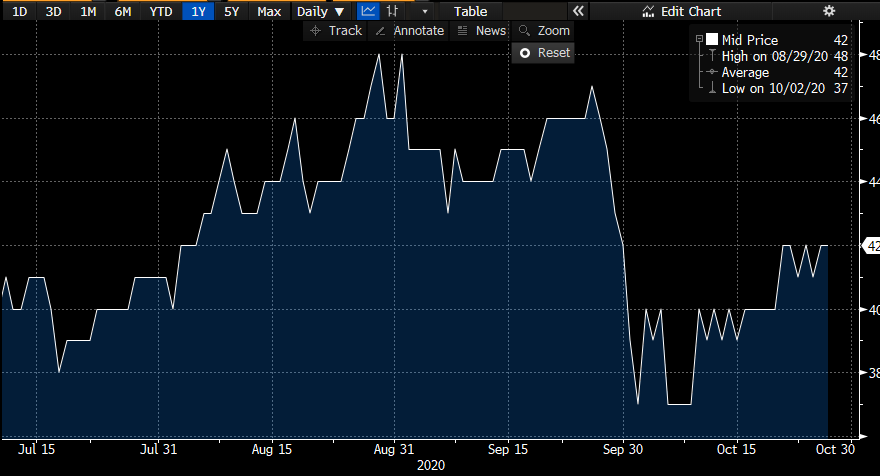 In 2016, betting markets and pollster models were bang in line. This time around, betting markets are going all in on the polling error from 2016 being repeated in 2020. From personal experience talking to market participants, a lot of this has to do with the fact that political reactionaries had a great 2016 - with the surprise brexit referendum in the UK also showing a large polling error. A narrative has formed that pollsters cannot correct for this. It's therefore important to know whether that's true. Fortunately, we have had some elections since 2016. Notably the 2018 mid terms cast doubt on whether systematic polling errors in favour of conservatives are the norm now. Across the Atlantic, the UK general election of 2019 results were in line with polling. The once bitten twice shy intuition of gamblers and pundits is not well supported by the evidence. Given that we would expect this shift in attitudes regardless of what is really happening, my strong inclination is to ignore it.

The polling for 2020 has consistently shown a national Biden lead both larger and more stable than in 2016. More specifically, his path to an electoral college victory likely ends in Pennsylvania, where polling for the Governors race in 2018 was sparse but largely in line with the solid democratic victory, itself a wider margin of victory than the 2014 governors race. Current polling has tightened Bidens lead here a little, with roughly 5% advantage, so for him to lose would require a larger polling error than in 2016, where a +3 clinton polling advantage swung to a -0.5% loss in the results. Whislt there's more to the election than one state, the micro and macro polling vs 2016 analysis yields the same result - Bidens lead is solid and would require a very low probability polling error to occurr again in order for Trump to hold onto the whitehouse. It's possible, but it's not probable. Just based on the numbers, it does not look 40% probable as the betting markets imply.

The Senate race however is another story. The Democrats were always going to face a difficult slate in 2020, with plenty of southern and rural seats they need to win for a majority, but the nationwide polling advantage enjoyed by Biden has led to many pundits forecasting a blue wave, and a 60% chance of a Dem senate majority on betting markets. Considering the 2018 mid term polling errors and the 2020 polling, I think that unlikely. Here I don't want to summarise and gloss over the facts of each race, so here, in full, is the note that I sent to clients yesterday:
---
The Democrats need to swing 4 senate seats in 2020 to have a majority. There are 7 realistic races for them according to most forecasters, and I've summarised the 2018 polling vs outcome and 2020 polling below.

Arizona
In the 2018 Mid Terms, Jeff Flake the incumbent declined to run again, leaving Martha McSally to contest the seat against Kyrsten Sinema. Polling as of 30oct had Dems +6%, 50% to 44%. Sinema won by 2.4%, 50% to 47.6%. 2020 polls have Martha McSally, who's running for a second time this time to complete John McCains term neck and neck with Democrat Mark Kelly – at least according to the four most recent polls.
=> A repeat of the 2018 polling error would mean a republican hold. Unlikely.
Colorado
2018 saw no senate race, but Democrat Jared Polis won the governorship with 53.4% of the vote vs 42.8% for the reps. Polls consistently put him 5-10% ahead. 2020 polling has ex governor Hickenlooper comfortably ahead, with an 8-14% margin.
=> A reasonably safe take for the Dems with no major polling error in 2018. Likely.
Georgia
Georgia's 2018 governors election was won by Republican Brian Kemp by around 50,000 votes of 4 million cast in a contest with widespread voter suppression. Polling was neck and neck. 2020 polling is also neck and neck with a wider variance. Given the winning margin in 2018, it's significant that some 300,000 voters were purged from voter rolls in December 2019.
=> Republican control of the states judicial system means voter suppression + the neck and neck polling should leave the seat in their hands. Unlikely. NB there are two seats up for grabs here
Iowa
Iowa's governorship was held by Republican Kim Reynolds in 2018 with 50% of the vote, a 3% margin. Relatively sparse polling put the Democrats either on top or within the margin of error in the week before the election. 2020 polling is similarly tied. A slate of blue chip polls on the 20th of October had the Dems anything from +6 to -4%.
=> A genuine toss up but if the 2018 error repeats a likely republican hold. Unlikely.
Maine
Maine's 2018 Senate race was unique in resulting in an independent Angus King winning with 54% of the vote. For a direct comparison, the governors race saw Democrat Janet Mills polling 8% over and winning by 8%. 2020 Senate race polling has Sara Gideon 4-7% over, but polling is sparse. 538's most recent poll is from the 14th of October at +7%.
=> Polling puts the Dems ahead and 2018 saw no substantial polling error, this could change easily as blue chip polls arrive over the coming weeks. Likely.
North Carolina
NC had no major statewide elections in 2018. Polling looked quite good for the house democrats with small margins either way until a SurveyUSA poll on the 29th of October put the reps 9% over, they ended up winning the popular vote by around 2% and taking 10 of the 13 seats. Polls from this last week have the Dems +4-6% for the Senate race.
=> little info from 2018 as no statewide races. Dems are just above the margin of error. Unlikely.
South Carolina
Republican Henry McMaster won in 2018 with 54% of the vote, a margin of 8%. Being considered a safe race, polling was sparse. The only blue chip poll of 2020 for the Senate race puts republican Lindsey Graham 6% ahead, but less storied polls have the race even or a democrat advantage but within the margin of error.
=> A low chance for  Democrats but with little good polling info, so this can change over the coming weeks. Unlikely.

Overall national polling masks the fact that the Dem senate slate faces adverse conditions in the states they need to win. Voter suppression is likely to be an issue in the states where republicans have strong control of the judicial system, notably in Georgia but also in the Carolinas and potentially Arizona. That's in addition to nationwide efforts to suppress postal votes. I still think the chances of a Democrat take of the senate are too high and should be below 50%. Betting markets currently have them at 60%.
---
There is a needle to thread here between despair at the accuracy of polling overall and a Donald trump victory being likely and a recognition of the polling errors that did prevail in 2018 and the likelihood of material voter suppression making a difference on the state level in 2020. The reason I've chosen to write this note is not because I think I'm uniquely insightful about US politics, but because I can see that there is a view that few are likely to come to that is well supported by the evidence and therefore is not in the price. My conversations with market participants imply to me that few hold this view, and we already know that pollsters, pundits and gamblers whose opinions are visible do not. Clients have further commented to me that if my view is corect it'll "kill risk", and indeed the markets do not obviously price it. The 1y1y 3y1y spread for example which is one measure of the markets pricing of rate rises in the medium term, is right in the middle of its range for 2020, a range it established in the context of unprecedented fiscal policy. Were the market worried about the fiscal taps turning off, I would expect this lower. The market does appear to support my proposed relationship between the curve and the senate race, here the price shown in white vs the Predictit % chance of Democrat senate control (chart from Bloomberg, curve in white, odds in yellow):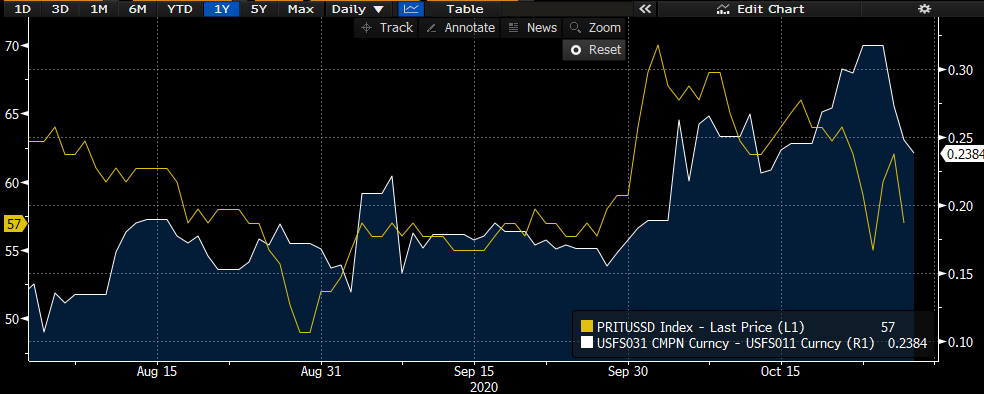 The big move in probability in October coincides with the move higher in the spread. Now both are reverting together.

I've therefore started looking at the world with a risk off bias. Whilst it would've been nice to come to this conclusion before the odds had already started to swing the way of my view, there is plenty of room for more movement. In fact, the setup for taking a risk off view will likely be there even if Trumps polling improves, because the chances of a republican hold of Presidency and Senate and more fiscal giveaways kicks in. With a week to go, it seems to me that the most likely outcome is therefore not one the market is looking at, and therefore an important scenario to position for. As always, I'm available on Bloomberg to discuss.
---
NB: This post is not investment advice and is not a trade recommendation. The views expressed here are my own and do not reflect those of my employer.