Modern Monetary Practice
A quick summary of monetary measurement, operations and policy
This post is intended to be a resource for conversations about money in a modern economy. I'm not trying to write a textbook here and am definitely not an authority figure of any kind, but I'm not aware of any succinct summary of these things so I want to have this handy in future. If you're expecting a normal post from me, apologies. There haven't been any because I've been trying to work out a way to write this as a normal article and failing. I hope this is of some use anyway!
---
Measurement
One quite useful definition of money is 'that which being owed is the same as possessing'. When we speak of having money in our bank accounts, we are saying that the bank owing us an amount of money on demand and our having the money is the same thing. Statistical measures of money work on this principal. They add up the amount of money that is owed by different kinds of actors to each other.

When people speak of cash or base money or reserves, they normally mean money owed on demand by Central Banks. This quantity will rise and fall due to the monetary operations of CBs. For the US, the Federal reserve publich statistics on a weekly basis here.

The quantity of money owed on demand outside the CB's accounts is known as narrow money. 'On demand' means that those who owe must repay immediately. Current accounts are on demand because they are convertible without notice or penalty into physical cash, or to settle payments. Savings accounts are not because they typically have restrictions on both. Physical cash (currrency in circulation) is included.

Narrow money is measured in the US in two different ways - M1 and Zero Maturity Money (MZM). M1 sums currency in circulation and all the balances of all the current accounts in the US. MZM takes this plus money market funds, which are bank accounts that are on demand in the sense of being immediately and costlessly repayable, but not convertible or transferable.
Broad money is narrow money plus the amount owed by banks that is repayable with a time delay, or at a cost. In the US, the broadest measure published by the Federal reserve is M2. This includes savings and small time deposits at banks, as well as retail money market funds. For cross country comparisons, I use the OECD's M3 measure which includes short term debt, repos and all money market funds.

In talking about measurement of money, I have deliberately avoided using the word 'supply'. When people talk about the money supply they mean the quantity of money balances. I don't think it's useful to call that supply.

Money aggregates are published by either CBs or state statistics agencies using the regulatory reporting of financial institutions. Most countries publish monthly, and use an average for the reporting period. The Fed publishes weekly, and even though it still uses an average for the week the typical peak to trough variation of narrow money in a given month is around 7%. That's around a year of average YoY growth. To illustrate, US M1 from Bloomberg in $bio: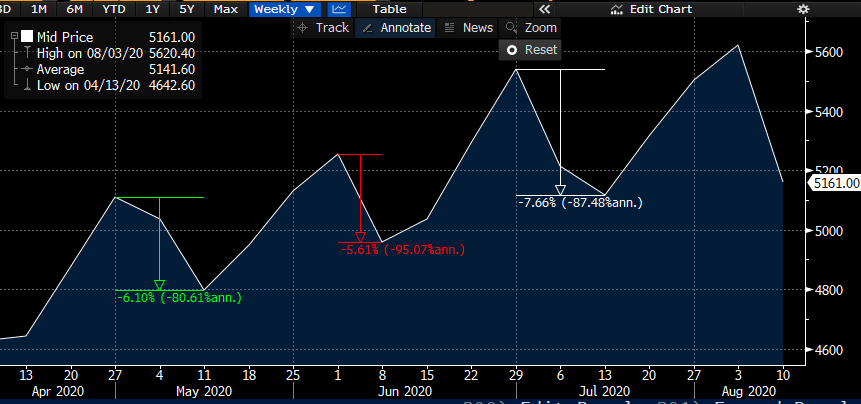 ---
Operations

It's important to make a distinction between economic value and accounting. A kidnap victim paying a ransom to their captor may be said to be jointly extinguishing the asset of their money with the liability of their captivity, whilst the captor is exchanging the asset of their prisoner with the prisoners money. To say that there's been no change in their respective wealth from paying the ransom misses the point.

That said, if we wanted to know the impact of kidnapping on a given measure of money, it's a fine enough framework.

The quantity of money does not change. To generalise, goods and services transactions do not by themselves affect any of the measures of money.

Transactions however are not always by themselves. Sometimes they involve credit. if that credit is from a bank, narrow money will increase.

The seller is now owed by their bank in the form of a deposit, and the buyer owes the bank in the form of the loan. Narrow money increases because the total amount of deposits increases - ie the banking system's liabilities increase.

This increase in deposits is only a result of the fact that it was a bank that provided the loan. Had the seller extended credit to the buyer, there would be no change to any measure of money. Only if the seller sells the resulting loan to a bank would there be an increase in measured money. In general, non banks selling financial assets to banks increases the quantity of deposits. Mortgages, personal loans, credit card debt and lending to businesses all fit this bill. The converse is also true. Banks issuing bonds that are bought by nonbanks decreases deposits.

Decisions by banks about their desired asset and liability profile affect different measures of money. Narrow money measures banks on demand liabilities, but banks assets are typically not on demand. Mortgages especially will only be repaid over many years. Banks therefore induce nonbanks to lend them money in other ways than via current accounts, which reduces narrow money and increases broader measures.

The same would be true if the bank had sold a short term bond to the non bank sector if we're talking about OECD M3, which includes such instruments. If the Fed is talking, then bond sales by banks reduce broad money. The impact of financial can't be abstracted from the measurement of money. Banks selling bonds either does or doesn't affect the quantity of money depending on your definition.

Government spending increases the quantity of money. Like a bank, the government settles its payments with reserves but reserves are not included in narrow or broad money.

Taxation is the opposite of this process, deducting deposits from the non bank sector and reserves from the banks. Government bond sales on the other hand reduce non bank deposits but give another asset in the form of US treasury bonds.
Taxing and spending together has no impact on the quantity of money, and neither does issuing bonds and spending if the bonds are sold to non banks. If they are sold to banks however, then government spending does increase deposits. Spending adds reserves to banks assets but then those reserves are exchanged for a Treasury bond.

It must be stressed that none of this is economics, it is accounting. Money as measured in statistical releases is fundamentally an accounting phenomenon adding up the nominal value of various account balances of different economic actors.
---
Policy

Monetary policy as a macroeconomic phenonemon is one thing, but as an accounting and therefore monetary phenomenon it's not too complicated. There are three main dimensions to it, two widely discussed and one less so.

The most well discussed one is the setting of risk free interest rates by CBs. The reasons for setting a given interest rate is macroeconomic so beyond the scope of this post, the practicalities of doing so are that as CBs are the monopoly provider of reserves they can make them as expensive as they like to borrow.

The second one most of us are very familiar with is that CBs set the quantity of reserves by buying or selling assets. Most famously, since 2008 various CBs have engaged in QE, buying government bonds from banks in order to increase the quantity of reserves.

QE is really a special case of a much more general practice in Central banking. It's historically very normal for CB's to manage the quantity of government bonds and reserves. Most developed market CBs stopped actively doing this when they moved to inflation targetting frameworks in the 90s, preferring instead to set a risk free interest rate and let the quantity of reserves adjust based on the response of banks to that rate.

Another sense in which QE is special is that it's a permanent rather than temporary change in the mix of government liabilities. CBs have historically used temporary measures, making loans to banks backed by collateral (ie, a temporary swap of assets for reserves). Until this spring the RBA were using reverse repos (allowing banks to exchange government bonds for reserves temporarily) to manage the quantity of reserves.

In normal circumstances, that response of banks to monetary policy is determined by a combination of the portfolio and risk preferences of banks themselves and regulation. This regulation is the third and least discussed part of monetary policy, but is very important. The balance sheets of banks have a uniquely important role in the economy because they and only they can monetise debt, and history has shown that the real economic costs of failing to regulate them in the public interest are enormous.

Regulation of banks balance sheets falls into two main categories: capital adequacy and liquidity. For reference, a stylised bank balance sheet: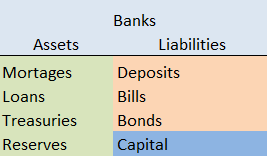 Capital adequacy rules determine how big the blue must be relative to the red. The owners of banks are normally incentivised to make capital as small a portion as possible. Banks assets normally have higher rates of return than their liabilities, so the bigger their balance sheets relative to their capital, the more $ returns per unit capital they expect. However the bigger a banks balance sheet relative to capital the greater the risk it fails from insolvency if asset values fall. Practically speaking it's very difficult and painful to wind up an insolvent bank, mainly because it's liabilities in the form of deposits are the rest of the economies assets and are needed for transactions. National CBs and financial regulators have typically defined capital adequacy rules, but there's international cooperation as well via the basel accords.

Liquidity regulations seek to ensure that Banks have sufficient liquid assets to cover repaying their liabilities under conditions of stress. Mortgages and Loans to firms and households may be difficult for banks to sell, but US Treasuries and reserves are very easy. National regulators are in the process of imposing Basel III rules which ensure that banks have enough of them.

There is a third kind of bank regulation that increasingly has a large impact on financial markets which seeks to limit the derivative exposure of banks. I intend to do a similar post to this one on derivatives soon.

Decisions by the CB to raise and lower rates, or raise and lower the quantity of reserves interract with financial regulation and portfolio preferences to determine the response of the quantity of money to monetary policy. For example, when the Fed purchases Treasuries as part of QE, they always buy from banks because the Fed can only interract with banks. What the banks do once they've had treasuries taken from them and replaced with reserves is up to them, insofar as they follow the rules. If they choose to replace the treasuries they've sold to the Fed, they'll need to buy them from the non bank sector.

In this case, QE has an impact on the quantity of money. The extent of the impact is mediated by the portfolio preferences and regulatory constraints of the banks.
---
A few general comments in conclusion. When economists talk about money they are mostly abstracting away from or ignoring everything in this post. The effect of a given policy or change in prefernces on the quantity of money will depend on what measurement is being used, the portfolios of banks they stand, and the regulatory context.

The equation "MV = PT" for example is often used to make inferences about the relationship between money, inflation and output. Whilst the equation is tautologically true, without tight definitions of all the terms it's worse than useless. What is M? Narrow, broad, base? what is T ? GDP for example measures only final consumption and ignores all intermedaite transactions.

None of this is to say however that the only things that matter are those which impact the quantity of money. Credit by non banks is a large and important part of facilitating transactions, and can have important macroeconomic consequences. The US has some $15trio of outstanding mortgage debt according to the national financial accounts, of which only $5trio or so are assets of banks. Nothing here should be interpreted as meaning that only bank credit is important.

Hopefully these summaries will be of some use and provide context to discussions about money in a modern economy, though there is little here that's unique to recent times. Everything written here would apply to a gold standard based economy, because the definition of a $ doesn't change the accounting. Whether based on a nominal value like our current system or giant wheels of stone, money in practice is about accounting relationships. Our intuiton mostly rejects that, but hopefully your intuition hasn't rejected this post!
---
NB: This post is not investment advice and is not a trade recommendation. The views expressed here are my own and do not reflect those of my employer.