RBA vs MMT
Investors should be mindful of the RBA's ideological convictions

In brief:
The Governor of the RBA doesn't like monetising government spending

His dislike of it is couched in technical language but driven by ideology

Namely, private decisions should determine macroeconomic outcomes

This drove the RBA not to cut in 2018, and is stopping them buying bonds now
---
A major source of personal pride for me is my restraint on the topic of MMT. After 20 or so posts, this is only the second about it, and the first was a reasonably restrained commentary on the meta-game of market participants' views of it. Time to come clean. I was into MMT before it was cool. A teenage libertarian fondness for Monetarism gave way to Keynesianism, creating fertile mental soil for the MMT seeds that were drifting around in the early 2010's blogosphere to germinate. After all, MMT is mostly just a restatement of a long tradition of monetary economics that is ignored mainly for ideological reasons because it makes it transparent that financial markets may not automatically arrive at an efficient or optimal outcome. Those ideological reasons found their expression last week in a speech by RBA governor Philip Lowe, and as second guessing him (and the other people that second guess him) is a big part of my day job, it's both fun and useful to pick apart his reasoning. Sure it appeals to my partisan view as well but ideology, in central bankers, is a good source of alpha. Fortunately then his speech is full of it.

The MMT position is that government spending, taxation and the issuance of government liabilities (including currency) are all potential tools to manage the economy. It seeks to show that the assumed links between these things (spending must be 'funded' by taxation or bond issuance) are simply policy conventions that can and likely should be challenged. Because the dominant form of macroeconomic management is that an independent central bank manages the issuance of currency in the guise of setting short term interest rates, and governments operate within the constraint of that decision to set fiscal policy, MMT has become known as the school of thought that says that governments should spend without issuing debt - simply because that is one of the most obvious things they cannot do now. That is the idea Dr Lowe takes aim at:

The first thing to say about this paragraph is that it cannot admit to the challenge to orthodoxy. Let's leave aside for a moment the important differences between issuing currency and creating money , for there is a world of ideology in Lowe's conflation of the two. The fact that he asserts that only the central bank can do it waves away a key insight of MMT - that such powers are delegated by government and all form part of the potential policy space. The RBA's own website describes how the issuance of currency used to be the perogative of the government. It is not surprising that a civil servant would assert the primacy of their department's control over an area of policy, but as the basis for an economic analysis it clearly lacks objectivity. Central banks in their current form and function are not an essential feature of the world.
If we grant that they are, the rest of the argument remains a struggle - the root of which is in this paragraph:

From an accounting point of view, this is solid enough. The issue for Lowe is that it torpedoes the rest of his argument by admitting that the form of the 'IOU' that Central bank has as its asset can be whatever the government wants. This undermines the conclusion he wants to get to, which he'd stated as:

By conceding that the Government can have whatever form of IOU it likes, this conclusion is off the table. A perpetual, zero coupon asset does not by definition require any future service by the government. It's theoretically true that a gold mine's output is a zero coupon perpetual liability of the mine. More generally, Lowe is being too modest when he says that a Central Bank's unique ability is to create money. It can do so much more. It can change the asset and liability mix in the domestic financial system in almost any way imaginable. In this paragraph, he asserts that if the government pays neither interest nor principle on its IOU then the RBA will start to run losses as it is forced to pay interest on deposits to its banks:

Earlier this year, the RBA quietly changed the financial system from a required reserves to an excess reserves regime . By creating new reserves to buy government bonds, the RBA increased the reserve balances held by domestic banks beyond their requirements. Every A$ of bond purchases creates a new reserve A$: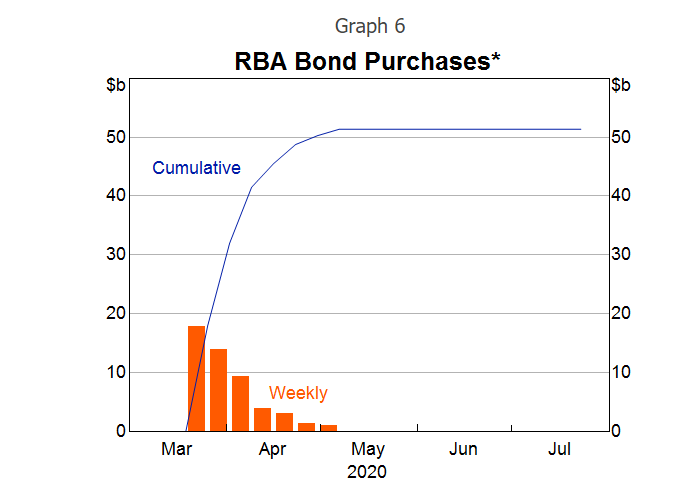 Along with this change, the RBA introduced a new interest rate - one on excess reserves just as the Fed was forced to do after its QE programs - in order to prevent the overnight rate falling to and perhaps below the bottom of their interest rate target range. If the RBA should wish to monetise government spending whilst avoiding paying interest on reserves to banks, all it need do is reverse this policy.

In this, I must concede to the governor, there is a kind of cost - but not in terms of government revenues or taxation as he asserts. In the limit, direct monetary financing would reduce the RBA's monetary policy space. Unwinding a policy of interest on excess reserves would remove the floor on interest rates - and thus reduce the RBA's control of the monetary environment. Should they wish to tighten policy from this position, it's likely that there would be a quantitative element involved - reducing the amount of reserves by selling some form of asset to the banks. In order to do monetary policy then, it would be neccessary to alter the composition of banks balance sheets. Here is where the ideology comes in. In the breach, in a crisis, altering the private sectors balance sheets via buying government bonds was just about acceptable because markets were "not functioning properly". The idea that this could be more broadly true, and that banks balance sheets often don't coincide with optimal macroeconomic outcomes, is assumed away.
We can see the RBA assuming this away in 2018/19. Here, we saw a cyclical and regulatory driven tightening of credit - which saw the money stock contract sharply compared to the economy. Here I've charted YoY M3 growth minus YoY nominal GDP growth in white, The difference beteen Australian and US YoY CPI inflation in green, and the RBA's cash rate in yellow: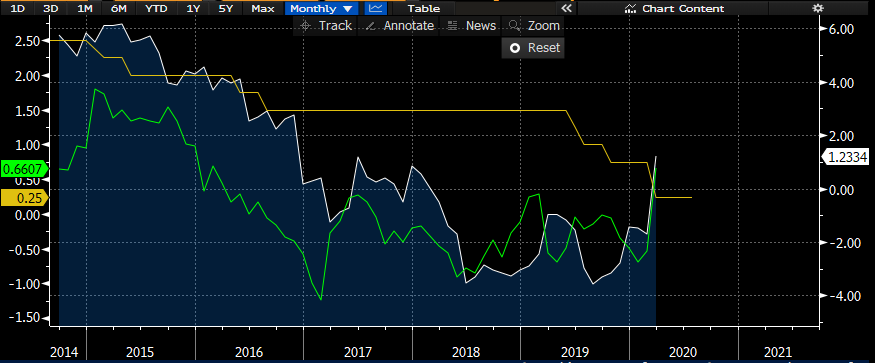 2015/16 saw rate cuts accompanying modest declines in monetary growth relative to GDP, but this despite a quite substantial australian CPI 'premium' to the US. The RBA cut several times in this period - but in 2017/18, CPI was relatively low, and money growth relative to the economy fell sharply. despite this the RBA did nothing. They could have cut in late 2018, Q3 and Q4 CPI were both under their 2% target, but did nothing until a conspicuously low print in early 2019 forced their hand. Monetary policy decisions from 2018 describe credit conditions as expansionary even as broad money measures contract sharply relative to the economy, simply because money market rates (which the RBA influence as a policy tool!) were not rising. The assumption in their decision making is that whatever amount of credit the banks deign to provide the economy with is the right amount, and so long as the price of it doesn't deviate too much from the rate set by the RBA, all is well. That was certainly a view to fade in late 2018.

You can see the same assumption in sharp relief in this paragraph on inflation:

MMT explicitly calls for government spending to employ spare capacity, which by definition is not inflationary. You might think this would be a trivial point for Lowe to concede because in a Pandemic it's so obviously true that there are involuntarily unemployed people, but it isn't. If it's possible to start an analysis from the assumption that the economy is not at any kind of equilibrium, the kind of analysis that Lowe is doing in his speech to pan monetary financing of government spending falls apart. If you can't assume equilibrium, you can't assume that any impact of your policy that changes what might otherwise have been is welfare reducing. If you can't do that, you have to evaluate every policy simply on its merits and how its effects match with whatever political or social priorities society might have. And if you're doing that, then monetary policy is political.
Dr Lowe knows that monetary policy is not political. He knows that if a policy ends up affecting the private sector's balance sheets, that's a cost being borne. These convictions of the RBA are leading them to pursue a different monetary policy course to other central banks. So long as short end rates stay where the RBA want them, bond funded government spending is the only policy tool available to manage demand. With total wages stalling out at 95% of pre crisis levels, that's a lot of weight on one tool (from the ABS):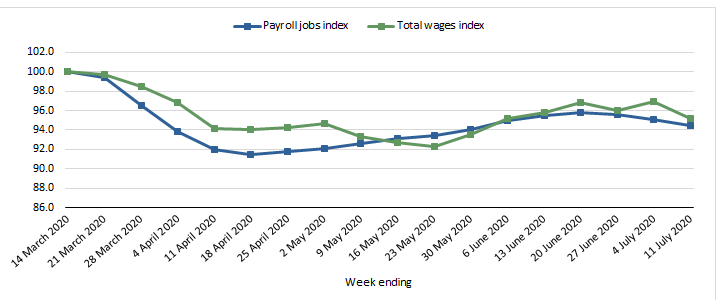 The relative steepness of the Australian government bond curve is attracting a lot of international attention. Two thirds of yesterday's syndication of 30y bonds went to foreigners. The question is whether these investors will keep coming to buy as they realise that they are being asked to fund the entirety of Australia's crisis response. Investors comparing Australia to other countries should be mindful of the ideological convictions of the RBA.


---
NB: This post is not investment advice and is not a trade recommendation. The views expressed here are my own and do not reflect those of my employer.